T
D
K
g
r
e
a
t
o
p
e
n
i
n
g
!
S
o
m
e
g
o
o
d
n
o
o
b
l
y
w
i
n
d
i
n
M
y
r
l
a
n
d
​
It was a dark and stormy night, the nightsnatches were screaming at the moon.... oh never mind intro:
"Villagers, people of the realm, farmers and fighters, may the Emperor wish you great happiness! LucasAlex9802 here, today I am writing this post in order to inform you about our guild, TDK"
Hoping you enjoy!

Despite of noob factor, don't understimate us: we have few gaming hours if compared to big ones, but we have a great team of active and well coordinated players, forged by difficulties and exponentially growing.

Tindrem is not exatly easy town where to live in, then you get in touch with the wilderness, even worst experience for a noob player. You may spend all your first months playing in few game areas, falling in a dark and unsatisfactory gameplay. What about TDK? The guild has been created after we all finally decided to leave and try to adventure: when we learned a bit and leveled up from totally noobs to confused new players, our guild members found each other and we decided to create this fantastic group, where we surely share the liking for this game.

True, a difficult team: we have tindremic assasins, crafters, mages, fighters, merchants and all kind of characthers inside, but togheter we organized our Discord server, we built a guild town, it was destroyed, we built again. We found friends, enemies, we learned a lot during the travels we faced togheter, about both making money and fighting: such a short time but still we did a lot thanks to our players and our friends who helped us understanding the game mechanics.​

Everything.​
1- Trading:
do not look for us if you hope for cheap service: we want to offer high quality service to everyone looking for materials, improving farming capabilities up to be able to gather and deliver enourmous quantity of goods in less than 24h (not a coincidence "Amicis volant, Pecunia manent" is our motto);
2- Delivering:
not only trade but also delivering missions, we are used to trade and transport from Belrim to Morin Khur, from Tidrem to Bakti in order to satisfy whatever contract we sign;
3- Dungeon raids and PvP:
great opportunity to obtain rare drops, we explore the map and we of course train for PvP events, also if our gamestyle is not that aggressive;
4- High level comunication and organization:
only voice chat to be able to move efficently during dungeons and delivering, plus we write daily messages and trading reports to be informed about how to make money;
5- Roleplay and entertainment:
gaming to Mortal Online and in TDK means finding a family to play with, starting with ingame prize contests to custom trophies and missions;​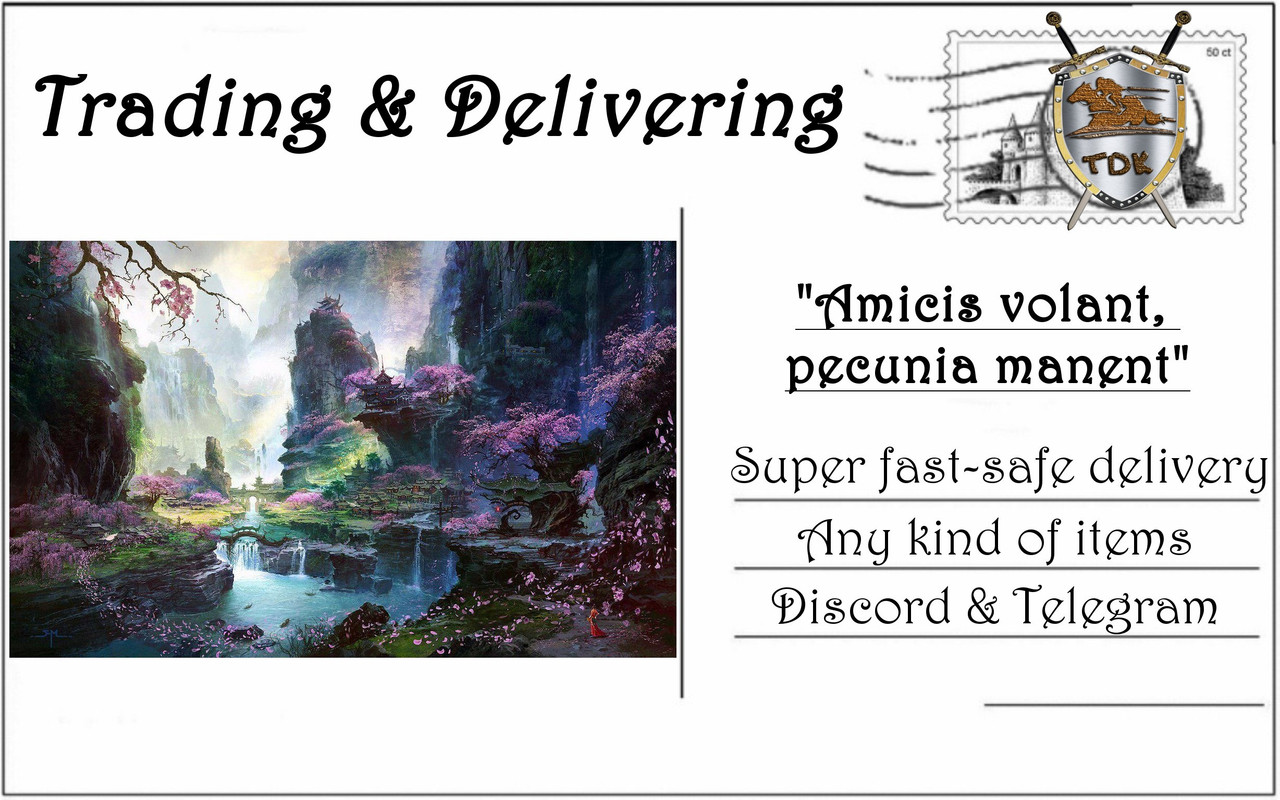 L
o
r
d
I
b
a
r
r
u
r
i
y
o
u
'
r
e
n
o
t
t
h
e
l
a
y
o
u
t
k
i
n
g
a
n
y
m
o
r
e
!
( joking, I really like how you write your posts
)​