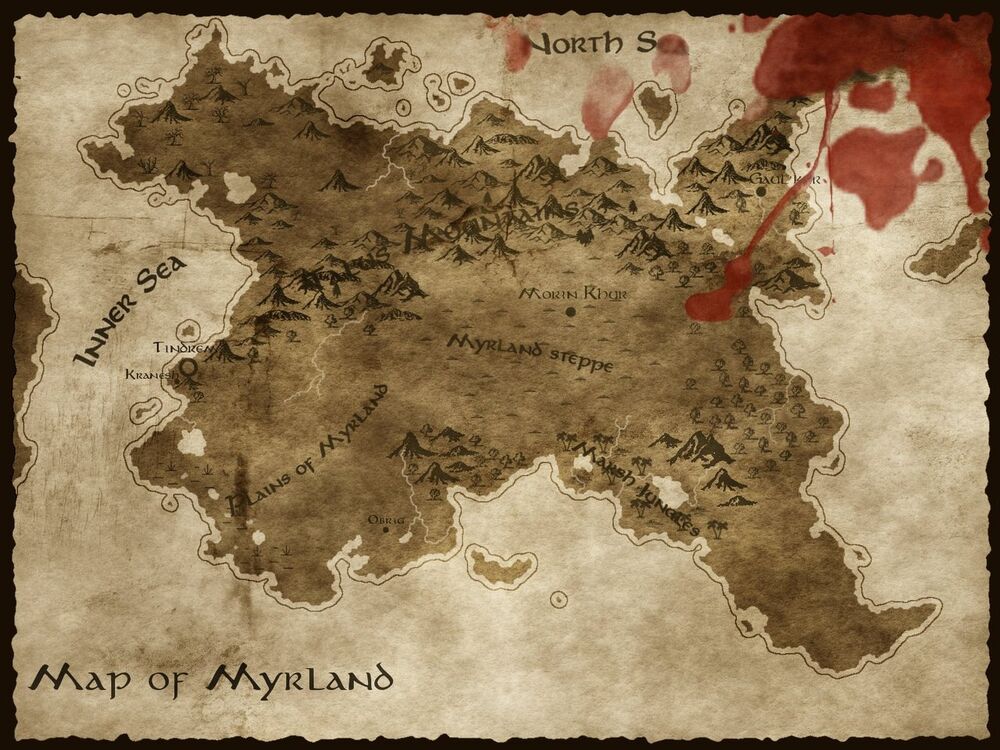 A concert Map of Myrland
A Small study in the The Philosophical Debate of Nave Goddess and its relation to our material world

: "

Special Thanks To

@Najwalaylah

For her Addition

"
First We start Listing Down The Known Gods of Myrland and they are :
Umbra
: God of Anquer Quare , God of the Soverign Peoples , God of power, conquest , murder, and domination , Anquer Quare loved Umbra to pieces, but didn't introduce or name him , that would have been the same player of "Malachi Drake" and his committee who translated the solar religion of the Duchy / Kingdom of Wessex into terms which suited that guild but collided as little as possible with game mechanics and with the little-known lore of parts of Mortal Online and Anquer Quare was not the only guild to worship Umbra ; notably , Sovereignty also did , There may have been others. "He" has his fans, if not indeed his fanatics , Umbra might be identified with the Tindremine planetary deity of Maal. Or not - "
shrine is at Gaul Kor
"
Soldeus
: God of Wessex , God of light and virtue , Soldeus is easily identified with the Tindremine solar deity , Sunna , at least in his outward form. The Church of Soldeus in Nave was introduced by the aforementioned player for Wessex and others, and had (or, even still might have) individual adherents and even clergy among several guilds , Ruben Ibarruri got an Emperor (or, a pretender , depends on who you ask) crowned in His Name. Generally speaking, to believe in either of the first two Deities on your current list is appoint the other as the Adversary, or an Adversary - Every known sect of Soldeus worship has also identified Nave Herself as a Goddess, though the orthodox believe Her to be deceased, or Her spirit no longer inhabiting her planetary Sphere Worshiped in "
Tindrem - Jungles - Sunken Isles, Brood Isles
" currently " .
Paladine
:God of the Quadra Khans Dragon- god of war, vengeance, and chivalry - "
there is a Lost shrine there guarded by a real chained Dragon " some say Paladine Captured the Dragon Colossi there and Bind him for Good " there in Talus Mountains represent him with a Draconigena Armor
" Followers of both Paladine and Seth have been known to acknowledge the existence of Umbra and Soldeus, and vice-versa . As Mats once pointed out (footnote to be supplied later) , on Nave, belief tends to create deity , and furthermore it seems that people portray this in their roleplay so it's not impossible to find those who disbelieve in the existence of the gods they don't claim as their own , but most who bother to have a characteristic opinion believe in ALL of them whether with liking or loathing ,
worshipers of Paladine have some reverence for Luna , a deification of the moon of Nave, as well (as did the cult of Sol Invictus, which never openly was represented in the Game
Somaku
: God of Arcturian , Mother of the steppes - "
used to be quite common all over khurite Land Now Most tribes know her by the new respresntation Migii spirit of the Forest and goddess of love and Compaction , Mother of Khurite
"
Avernus
: God of the Guttersnipes , God of thieves and brigands - "
Currently Fabernum - Meduli
"
Seth
: God of Escuadron de las Sombras , God of the desert, afterlife, death, and calamity - "
currently Meduli
"
Mirthrak
: God of Mors Omnibus , Hero of both Risar and Thursar, God of the scorned and enslaved , God of the freedom fighter , God of blood sacrifices and power - "
currently Talus Mountain - GK - spider Cave - Tindrem
"
Caerus
: among the Tindremine Gods , he has yearly festivals " the Raffles " , He's come to be the chief god of the Tindremic Empire in its decline, since that's about all they do in the way of regular rituals .
Camulos
: He became a Worshiped God but truth about Camulos is He Was an Old King Cole Who had Two Sons one Was Good other Was Evil , The one on the left is the evil son " World in his right hand and the book in his Left " , While the Good one hold the world on his shoulder and a shepherds staff of War , The evil son called open the Dragon " Colossi " while the good son called open the bird of peace " Zelua " .
Zelua
: The Aspect peace , Bird of peace one of the tindremic known Gods .
Master of the Crossroads
: God of the travelers, tradesmen, and wanderers , Crossroads can be identified with the Bridge God , who has had various forms of worship for as long as bridges have been 'openable' so that Mortals could leave stuff inside . This is the only god in any aspect of the game to whom any rite can consistently be performed , e.g., by leaving Him something in the bridges you cross or pass . The currently most avid and thuggish devotees of this deity are RPK (the guild) and their cohorts, who feed him heads of their enemies and victims (though they are not alone in this) "
Nothing is known about him
"
Sec : the Pantheon -
This addition is Credited To @Tuhtram From the original thread "
No - Gods
"
it Was surprising thing For me to find out that Mortals used to worship Planets as Gods and Named them after our Solar system " the Pantheon " is intimately tied to the solar system that Nave exists in The "Pantheon" are the Tindremene gods , These would be :
Sunna
Maal
Thalassa
Nave
Crepitea
Skadi
Pontos
Erebus
Their respective areas are unknown , but we can make a few guesses , Skadi is mentioned as being a "Norse" god in the Tindremene Lore Article , it's unknown if this means that she's Kallardian in origin or not . Thalassa is clearly connected to at least the seas, such as "Thalassa Snakes" and the "Mouth of Thalassa" existing on the old map . It could also be mentioned that the "Flow of Pontos" is on this map next to a similar symbol while Mats said
about Nave name of the MO world
"
Nave as a name (as most other important names in MO) has several meanings and references:
In the past people believed the MO world was the center of the universe (a geocentic model), and as such the planet was the Nave/hub of the universe. Although this theory is now mostly abandoned (for a heliocentric model, like the Armillogion), the name still lives on.
Nave is also the central part of a church, i.e. the area reserved for Mortals (as opposed to the clergy or the sanctuary)
Nave is the ship of mortals that travels through space and time.
Nave is of course also the "navel" - the central part or point of everything, and what connects the fetus to it's mother . "
Credit To
@Mats Persson
it is Not know for Sure Who Was before who , The pantheon or the Lore Gods Like Kuzen , Camulos, Zelua, and Caerus " tindremic gods " or the Known Gods today but one thing is we are sure about " that We Do have a Large Diversity of worship in MO and they do Take part in our day life and Struggle " .
there is also
Demi - Gods
" a spirits of divine that were Weakened and became less powerful or Forgoten Most of them are Evil its better not to Discuss them , But it Said that Necromancers Use Rituals to summon those Fouls and Make Pacts with them in exchange of sacrifices and worshiping the demi God grant his follower some powers and use them to For-fill his well in Nave .
Gods are commonly viewed by the evidence of their interest in worldly matters. A central belief in the active participation of Nave matters can be
challenged by the evidence of apathy on the part of Gods during times of plague or famine.
From intervention in legendary Tales to manifestations in common daily life, no pattern for the Gods of activities is readily apparent. The concerns of Gods in many ways may seem unrelated or at best unconcerned with the daily trials of the mortal realm. The exceptions do exist, however.
Many historical records and legends point to the direct intervention of one or more gods at times of great need. Many heroic tales recount blessings bestowed upon heroic figures who worked or quested for the good of Mortal kind .
Some times It has also been reported that priests of high ranking in their temples may on occasion call upon their God for blessings or help in time of need
.
The exact nature of such contact and the blessings bestowed is given to much speculation, as the temples hold such associations secret and holy. This direct contact gives weight to the belief that the Gods are aware of the mortal realm. In many circumstances, however, these same Gods will do nothing in the face of suffering and death, seeming to feel no need to interfere. It is thus possible to conclude that we, as mortals, may not be capable of understanding more than a small fraction of the reasoning and logic such beings use
.
One defining characteristic of all Gods and Goddesses is their interest in worship and deeds . Deeds in the form of holy quests are just one of the many things that bring the attention of a God , Deeds in everyday life, by conforming to the statutes and obligations of individual temples are commonly supposed to please a Deity. Performance of ceremony in a temple may also bring a Deity's attention. Ceremonies vary according to the individual Deity. The results are not always apparent but sacrifice and offerings are usually required to have any hope of gaining a Deity's attention.
While direct intervention in daily temple life has been recorded, the exact nature of the presence of a God in daily life is up to great speculation.
A traditional saying of the Khurite goes "
One man's miracle is another man's accident
." While some gods are believed to take an active part of daily life, others are well known for their lack of interest in temporal affairs.
It has been theorized that gods do in fact gain strength from such things as worship through praise, sacrifice and deed. It may even be theorized that the number of worshippers a given God has may reflect on His overall position among the other Gods. This my own conjecture, garnered from the apparent ability of the larger temples to attain blessings and assistance from their God with greater ease than smaller religious institutions.
There are reports of the existence of spirits in our world that have the same capacity to use the actions and deeds of mortals to strengthen themselves as do the Gods. The understanding of the exact nature of such creatures would allow us to understand with more clarity the connection between a Deity and the Deity's worshipers.
The implication of the existence of such spirits leads to the speculation that these spirits may even be capable of raising themselves to the level of a God or Goddess. Ahai priest of the Temple of Migii has suggested that
these spirits may be the remains of Gods and Goddesses who through time lost all or most of their following, reverting to their earliest most basic form. Practitioners of the old Ways say that there are no Gods, just greater and lesser spirits. Perhaps it is possible for all three theories to be true
.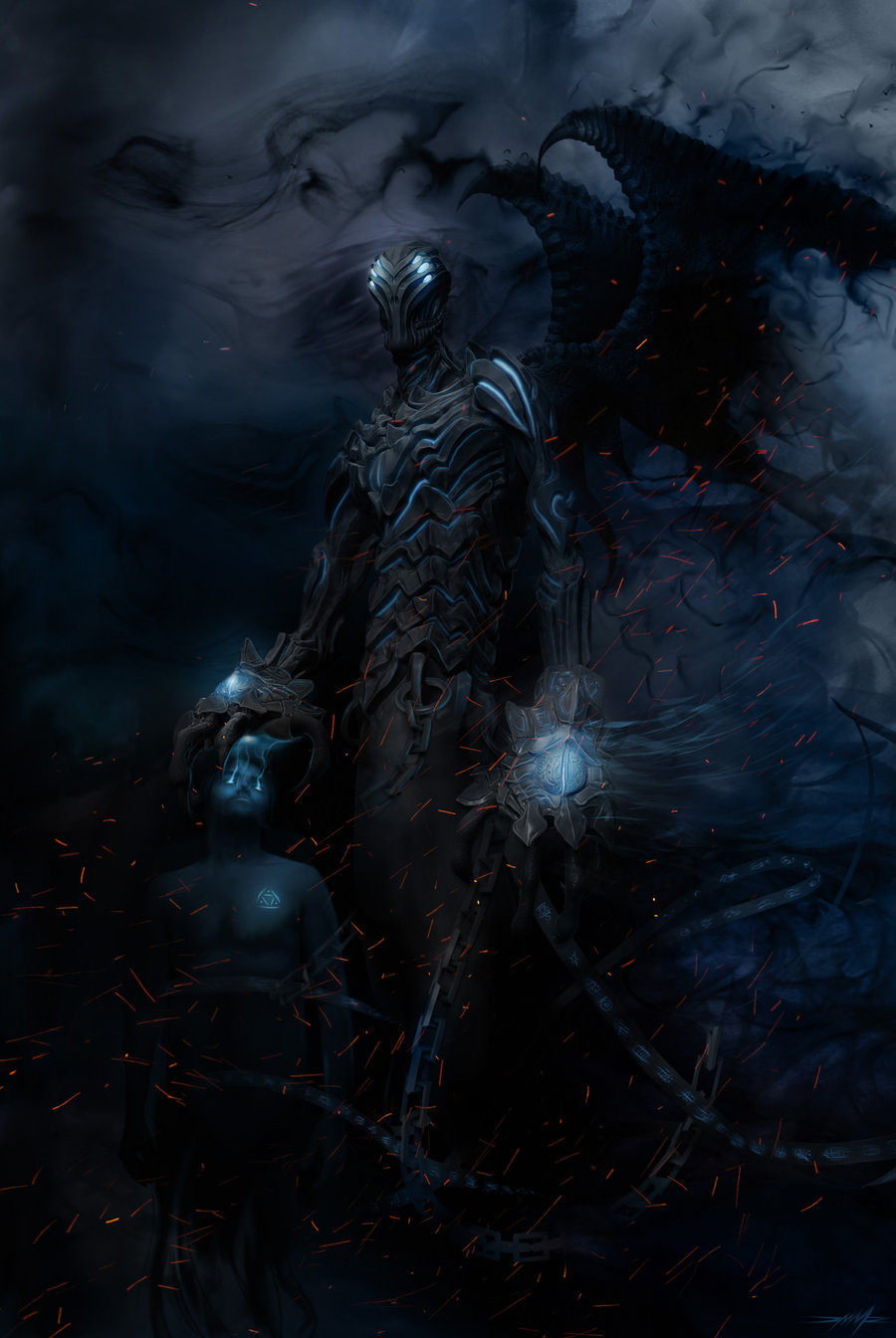 A reperentation to Demi - God Vesnu
We who know the
Old Ways
are well aware of the existence of a spiritual world invisible to the unenlightened . Just as one living in a kingdom but
unaware of the political machinations underneath may see a new tax or battle preparation as the caprices of fortune, many observe floods, famines, and madness with helpless incomprehension. This is deplorable
. As a Great Man once said , "
The power of ignorance can shatter steel like glass."
What, after all, is the origin of these spiritual forces that move the invisible strings of Nave ? Any neophyte of etherology "Science of studying Ether world and portals " knows that these spirits are our ancestors -- and that, while living, they too were bewildered by the spirits of their ancestors, and so on back to the original Acharya and gods to whom the common people turn are no more than the spirits of superior men and women whose power and passion granted them great influence in the afterworld .
Certainly this is our truth and our religion . But how does it help us in our sacred duty of seliffrnsae, or providing "grave and faithful counsel" to lesser men ? ...
Primarily, it is easy to grasp the necessity both of endowing good men with great power and making powerful men good. We recognize the multiple threats that a strong tyrant represents - breeds cruelty which feeds the
Demi-God Juko
and hatred which feeds the
Demi - God Vesnu in the khurite Culture
if they should die having performed a particularly malevolent act, they may go to rule in Eternity and worst of all, hey inspires other villains to thirst after power and other rulers to embrace villainy .
Knowing this, we have developed patience in our dealings with such despots. They should be crippled, humiliated, impoverished, imprisoned.
Other counsellors may advocate assassination or warfare - which, aside from its spiritual insignificance, is expensive and likely to inflict at least as much pain on the innocents as the brutish dictator. No, we are intelligence gatherers, dignified diplomats - not revolutionaries.
A representation to Demi - god Juko
How, then, are our counsellors "faithful" ? We are faithful only to the Old Ways -- it is essential always to remember the spiritual world while keeping our eyes open in the physical one. Performing the Rites of Migii on the 20th of Douran and the Ooimii on the Last of it they are essential means of empowering salutary spirits and debilitating unclean ones . How, then, are we at once faithful to those we counsel and to the sanken Isle ? Perhaps it is best: "In The Ether , conflict and disparity are what bring change, and change is the most sacred of the Men Forces. Change is the force without focus or origin. It is the duty of the disciplined Enlightened One to dilute change where it brings greed, gluttony, sloth, ignorance, prejudice, cruelty... , and to encourage change where it brings excellence, beauty, happiness, and enlightenment. As such, the faithful counsel has but one master: His mind. If the man , The Monk counsels acts wickedly and brings bad change and will otherwise not be counselled, it is the Monks duty to counterbalance the Bad effect by any means necessary .
A student of the Old Ways may indeed ally himself to a lord -- but it is a risky relationship . It cannot be stressed enough that the choice be wisely made. Should the lord refuse wise counsel and order the Monk to perform an act contrary to the teachings of the Old Ways , there are few available options. The Monk may obey, albeit unwillingly, and fall prey to the dark forces against which he has devoted his life. The Monk may abandon his lord, which will bring shame on him , and so may never be allowed home again . Or the Monk may simply Do the Ultimate sacrifice and kill himself .
To be continued
Last edited: